It is impossible to emphasize how important Youtube Marketing has become to the digital marketing sector. YouTube is the second most visited website in the world, just after Google, with over 2 billion active users each month. YouTube marketing has evolved into a crucial tool for companies of all kinds to connect with and engage with their target demographic.
We'll cover the different kinds of YouTube advertising that are accessible to businesses in this post as we delve into the realm of YouTube marketing. We'll also look more closely at the most recent developments in video marketing and why it's so important for companies today to have a YouTube presence.
The Importance of YouTube for Business
The way that firms approach their marketing initiatives has been transformed by YouTube. Businesses may now produce interesting video content that connects with their target audience instead of only relying on conventional advertising strategies like TV and print commercials. Businesses may reach a sizable audience, increase brand recognition, and position themselves as thought leaders in their fields via YouTube.
Businesses can market their goods or services on YouTube for a reasonable price. Unlike conventional advertising strategies, which demand a substantial financial commitment, making a YouTube video may be done on a relatively tight budget. Businesses may gain a devoted following and turn viewers into paying clients with the appropriate content.
Also, YouTube gives companies a singular chance to win over their audience's trust. Businesses can position themselves as industry leaders by producing interesting and educational videos. Viewers are more likely to trust brands that offer insightful advice and useful information.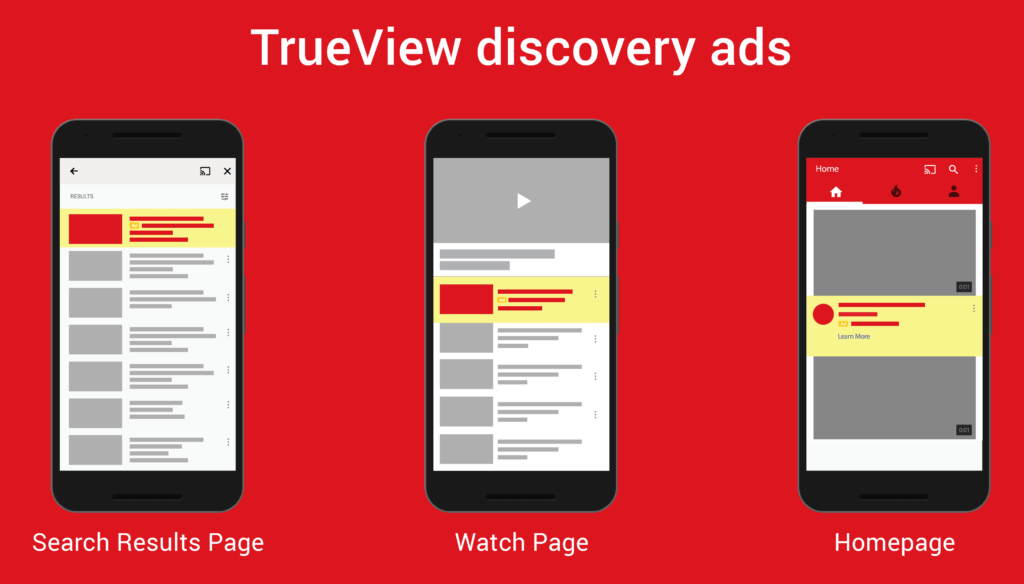 Businesses can utilize a variety of YouTube advertising to market their goods and services. Each form of advertisement is created to target a certain audience and accomplish a particular marketing goal. Here are some of the most typical YouTube ad types:
TrueView Ads
The most typical YouTube ad kind is TrueView. These are interstitial videos that can be skipped before, during, or after. After five seconds, the advertisement can be skipped by the viewer. Only viewers who see the entire advertisement or at least 30 seconds of it will be charged.
TrueView advertisements come in two varieties: In-Stream and Discovery.
Before, during, or after a video, in-stream advertisements are played. Following five seconds, they can be skipped. Only viewers who see the entire advertisement or at least 30 seconds of it will be charged.
Search results, the YouTube home page, and suggested videos all use discovery advertising. They are made up of a brief text description and a thumbnail image. A viewer is directed to the advertiser's video when they click on the advertisement.
Non-Skippable Ads
Non-skippable ads are 15-20 second ads that play before a video. The viewer is required to watch the entire ad before the video can be viewed. Non-skippable ads are ideal for businesses that want to ensure their message is seen by their target audience.
Bumper Ads
Bumper ads are six-second ads that play before a video. They cannot be skipped, and advertisers are charged for every 1,000 impressions. Bumper ads are ideal for businesses that want to create brand awareness quickly.
Overlay Ads
Overlay ads appear as a banner ad at the bottom of a video. They are semi-transparent, and viewers can close them if they wish. Overlay ads are ideal for businesses that want to promote a specific product or service.
Trends in Video Marketing
Just like Social Media Marketing, Video marketing is constantly evolving, and businesses need to stay up-to-date with the latest trends to stay competitive. The following are the current trends in video marketing:
Short-Form Videos: Short-form videos, also known as "micro-videos," are becoming increasingly popular. These videos are usually less than 15 seconds long and are designed to capture viewers' attention quickly. Short-form videos are ideal for social media platforms like TikTok and Instagram.

Live Streaming: Live streaming has become a popular way for businesses to connect with their audience in real-time. Live streaming can be used for product launches, Q&A sessions, and behind-the-scenes looks.

Personalized Videos: Personalized videos are videos that are tailored to individual viewers. These videos can include the viewer's name or information that is specific to them. Personalized videos are highly engaging and can help businesses build a stronger connection with their audience.

Interactive Videos: Interactive videos allow viewers to engage with the content by clicking on different elements within the video. These videos can be used to gather customer feedback, promote products or services, or provide educational content.